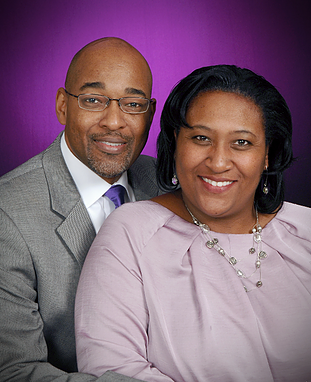 LEAD PASTOR-TEACHER
Rev. Reginald (Reggie) M. Sheppard, M.Div., PhD. Candidate
Pastor Sheppard is married to his wife Cynethia for over 24 years, and they have two children: Alexandra and Joshua. He grew up in Baltimore City, Maryland, and began following Christ at age 11 at New Psalmist Baptist Church under the Pastorate of Rev. Dr. Walter S. Thomas Sr. He accepted the call to ministry in 2006, beginning licentiates training at New Psalmist Baptist Church in 2007. Pastor Sheppard preached his initial sermon and was licensed to preach the Gospel on October 14, 2008, under the leadership of Bishop Thomas. God also led him to Maryland Bible College and Seminary where he studied biblical studies (B.A., 2010), Capital Seminary and Graduate School for pastoral leadership (M.Div., 2013), and as a doctoral candidate in biblical studies (PhD., 2022). After moving his family to Harford County, Maryland he was led to serve the Lord locally, so his family joined and served faithfully at Mt. Zion Baptist Church in Havre De Grace, MD from August 2010 through December 2014. He also served along side missionaries over the last few years preaching and teaching the gospel on mission trips to Jacmel, Haiti. In December 2014, he was called to organize and ordained to oversee a new work in Perryville, Maryland, which is now known as the New Victory Christian Church. Pastor Sheppard has a passion for teaching God's word, preaching the gospel of Jesus Christ, loves people and seeing them grow to their full potential in the Lord.
Pastor's Normal Office Meeting Hours: Tuesday and Wednesday 5-6:00 PM, Friday 6-7:00 PM, and Saturday 11-12:00 PM or 1-2:00 PM.
To schedule an appointment to meet with Pastor Sheppard please contact the Church's Ministry Assistant, Ms. Tawanda Knight at tknight@newvictorycc.org or call the Church office at 443-966-4381.